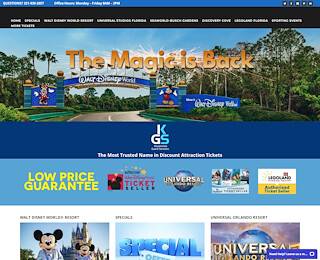 Get Awesome Disney World Tickets Discount
Traveling to Orlando is synonymous with Disney. It is impossible to come to this place and avoid as an adult recreating all the magical moments that the characters of this franchise gave you. Besides, for sure your children inherited the love for the wonderful stories and the Disney world, so it is a must.
However, the big challenge is when it comes to paying for your Disney World theme park tickets. There is so much to see, that in most locations one day is not enough. That is why it is key to get good Disney World discount tickets, so you can enjoy without leaving your entire vacation budget on it.
To get the best prices on Disney World tickets, the wisest thing to do is to count on the support of a top authorized theme park seller such as Kissimmee Guest Services (KGS). You should know about our extraordinary Disney World packages and discounts, so you will know why we are your ideal choice.
Get the Best Disney World Tickets Discount with KGS
We have been in business since 1997, and since then we have positioned ourselves as one of the best when it comes to buying Walt Disney Resort tickets. Our years in the market and the large volume of tickets we sell each year, allow us to obtain the most competitive prices in the industry. You will be able to enjoy the Disney world at an unbeatable price since we are pioneers in the market. Also, you have the support of our incredible staff that will know how to advise you to get the most out of your trip to Disney World in Orlando.
The More You Go to a Park, the Less You Pay
The great secret of our incredible ticket packages is that the price is more competitive the more days you buy them. For example, a 1-day base ticket to Magic Kingdom has a one-day cost of $140.14 per adult. However, if you buy a 3-day base ticket it will cost $353.08, but each day only $117.69 (saving $67.34). If you extend the pass to a 10-day base ticket, you will pay only $56.38 a day, saving $837.56, incredible, isn't it?
Now imagine that savings for a family of 4: two adults and two children. The 5-day passes for everyone will allow you to save $929.6 and if you buy them for 10 days you will pay $3,295.94 less. Plus, you will also save time. You can forget about spending half your vacation waiting in line to get your tickets, and instead spend that valuable time with your family.
KGS Gives You More Added Value
We strive to offer you exceptional customer service. That's why we give you options to get your tickets in your hands the way you prefer: you can pick them up at our offices, or we can send them by mail, either conventional or express. You also have different coupons and discounts from our commercial partners such as Budget Rental, or to visit other incredible places in the region, such as Showcase Citrus.
Trust KGS!
 If you want to make the most of your vacation in Orlando, you are in the right place. Kissimmee Guest Services is the reference company in the sale of tickets and packages for Disney and the other theme parks. We are ready to help you choose the ideal options that will allow you to live an unforgettable vacation. Contact us for the best-discounted tickets.
Kissimmee Guest Services
321.939.2057
950 Celebration Boulevard H
Celebration
FL
34747
US